The Black Camaros!
Welcome to the newly redesigned home of the Black Camaros!
To start off, what we have here is a whole new website design. I am hoping to get away from the old design...and hopefully incoporate more graphics/videos onto this site.
Keep a close eye out! MANY more changes to come!
Updates
got a new update for ya'll....finally got around to doing some more with this page.....
and i uploaded and made a page for my camaro Z28 over here in japan....
Enjoy!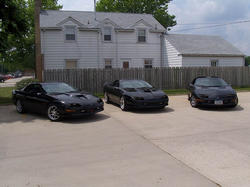 Comments, Questions, Recommendations?
If you have any ideas or things that you may want to see on this site, then please, feel free to speak up and let us know!
email me at blahster@blackshadowz.cz28.com and i'll be sure to read it!